What to Do If Your Ex Puts Your Child at Risk
April 14, 2022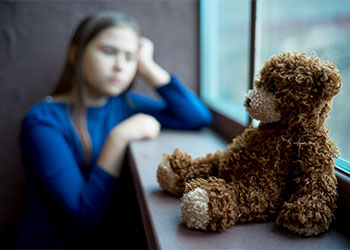 A divorce or break-up with a partner can be stressful and emotional for everyone involved, particularly the children. Even when it is believed that divorce or separation will be in everyone's best interests, a couple's break-up usually affects the children's mental, physical, and emotional health, academic performance, and relationships. Parenting plans are often established to determine the duties, rights, and responsibilities of each parent to their child. However, these new arrangements may be difficult for the parents, as they may be missing their kids and are worried about their health and safety while with the other parent.
If you are concerned about the safety and health of your child with your ex-partner, you must speak with an experienced Kansas or Missouri family law attorney for detailed guidance. At Rundberg Law, LLC, I understand the struggle of parents who believe that their child may be at risk. I'm poised and ready to help you protect your children from harm. As your legal representative, I will work to protect your best interests, seek child custody modification, or assist you in filing a petition for protection from abuse. I regularly serve clients in the Kansas City area, in both Kansas and Missouri, including Overland Park and Johnson County.
Circumstances That May Put Your Child at Risk
Physically, sexually, or verbally abusing a child can put them at serious risk. However, there are still other ways in which a parent can put a child's health and safety at risk or expose them to harm.
Neglect – Neglect can take different forms, including:
Not providing the child with food and water

Leaving the child unsupervised

Allowing the child to consume allergic or harmful substances

Failure to bathe the child or change diapers when required

Not seeking medical attention if required
Exposure to Unsafe Conditions – Also, parents can put children at risk by exposing them to dangerous and unsafe conditions such as:
Abusing drugs, alcohol, or allowing others to abuse drugs or alcohol in the child's presence

Exposing the child to chemicals, including those in adhesives, paint, and household cleaners

Driving a vehicle with unrestrained children

Driving recklessly while having children as passengers

Leaving sharp objects and firearms within the child's reach
An experienced divorce attorney can investigate every detail of your case and decide whether to seek a modification of the child custody order.
Modifying a Parenting Plan
Parenting plans are always subject to modification. To change an existing child custody order, the parent seeking the modification must show that:
There has been a "material change of circumstances" since the existing custody order, which makes the order inappropriate

A new custody order will serve the best interest of your child
If you believe the other parent is putting your child's safety and health at risk, you must gather enough evidence to support your claims when seeking a custody modification with the court. An experienced family law attorney can help protect your custody rights and explore your available legal options to change the existing parenting arrangement.
Filing for Protection From Abuse
To protect yourself and your child from domestic violence, abuse, or neglect by your ex-partner, you must take preemptive action to file for a protective order against them. Depending on the circumstances, you can file for a restraining order against your ex on your behalf and/or your child's behalf.
The restraining order will require the abusive parent to refrain from contacting or visiting you and/or your child. An experienced family law attorney can help you file for an order for protection from abuse.
How a Knowledgeable Attorney Can Help
As a parent, it is natural to be extremely concerned about the health and safety of your children. While you may be able to protect your kids when they're under your care, you may feel helpless when they spend time with the other parent. If you suspect your child is being put at risk by your ex-partner, you need to protect them by removing your child from that environment. An experienced family law attorney can explore your available legal options and help determine the best course of action.
At Rundberg Law, LLC, I have the experience, diligence, and resources to assist and guide clients in complex family law issues involving domestic abuse and children at risk. As your legal counsel, I can evaluate and investigate every aspect of your unique circumstances thoroughly and determine the best way to protect your child.
Taking action today can prevent any further harm or injury to your children. Contact Ron Rundberg for an initial consultation. I have the comprehensive legal counsel, advocacy, and compassionate representation you need to navigate crucial decisions. My firm regularly serves clients in the Kansas City area, including Overland Park and Johnson County, Kansas, along with the surrounding areas of Missouri.