Issues Surrounding Divorce
June 19, 2023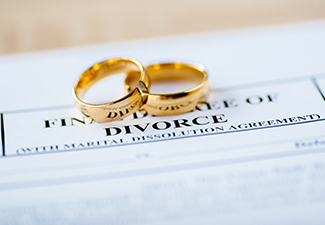 When filing for divorce in Overland Park, Kansas and surrounding areas, including Missouri, it is important to understand the process. Divorce can be a stressful process for everyone involved, so it is important to have an experienced legal advocate on your side.
The divorce process starts with filing a petition for divorce alleging grounds for divorce and the date of separation and requesting that the court grant you a divorce. Some requirements for being granted a divorce in Kansas are strict, so it is important to consult an attorney. Do not try to represent yourself, even if you can agree on many major issues with your spouse regarding a settlement.
Divorce Petition Requirements
To file a petition for divorce in Kansas, you or the defendant must have resided in the state for at least 60 days before filing the petition for divorce. Residency is based on the facts of your situation, including where you have registered to vote, where you received your state-issued ID, and paying property taxes within the state.
You must also state grounds for divorce. In Kansas, you may allege that the reason for the divorce is due to no fault of your own or those of the defendant if your reason for requesting the divorce is an incompatibility. If your reason for the divorce is separation, failure to fulfill a marital duty, or permanent incapacity, you must prove grounds of divorce.
Property Division
If you have acquired property during the marriage, this will be subject to division by a court during the divorce proceedings. It is a good idea to gather documents related to your real and personal property when preparing to file a petition for divorce. Mortgage and insurance paperwork and any paperwork related to bank accounts, credit card statements, and retirement accounts are important to have on hand when considering a property settlement agreement or preparing for a hearing.
Certain exceptions to the division of marital assets apply. If you have received a gift or inheritance, this may not be deemed marital property subject to division in divorce court. This means that you may be entitled to be awarded the property in a decree of divorce free and clear of any claims by your ex-spouse.
An exception applies if you have co-mingled marital funds with those that are deemed to be non-marital. For example, if you have used an inheritance to pay for improvements on a home purchased during the marriage, the value of the improvements may be subject to division in your divorce case.
Spousal Maintenance
Spousal maintenance is also known as alimony. An award of spousal support is based on the length of the marriage, the income of both spouses, and the need for support of the spouse who is requesting support. Spousal maintenance is most likely to be awarded if your marriage has lasted several years, if you or your spouse has given up schooling a career to manage the household, and if you or your spouse has been the primary caretaker for your children.
Courts have much more discretion to award spousal support than child support, so their decisions may be unpredictable. Therefore, you should consider any acceptance or rejection of any pre-trial offers of spousal support carefully.
Child Custody
If you are contemplating filing for divorce or are trying to work out an agreement, child custody will be one of the primary issues to decide when minor children are involved. You may consider a joint custody arrangement with approximately equal parenting time or one parent may have primary custody with the other having visitation according to the schedule set forth in the agreement or court's order.
Prior to the entry of a decree of divorce, you may have the opportunity to attend mediation with your spouse to discuss the provisions that will be included in the final decree. Another less formal option is to sign a settlement agreement regarding the division of property and debts, visitation, and child custody.
A settlement agreement may address spousal support and child support. Spousal support is generally more flexible than child support. Child support is based on state guidelines, while judges have much more discretion regarding awards of spousal support.
Child Support
If you are not awarded primary custody, you should expect to pay some child support. The amount ordered will be based upon your income and that of the custodial parent. If you share custody with the other parent, you can expect to pay an amount that reflects the difference between your income and that of the other parent. Calculations of child support involve many factors and can be difficult to change later--it is important to consult an attorney as early as possible.
Contact an Experienced Family Law Attorney in Kansas & Missouri
If you have questions about filing for divorce in Overland Park, Kansas, and surrounding areas, including Missouri, or have been served with divorce paperwork, contact Ron Rundberg for a consultation.