Issues in Same-Sex Divorces
June 9, 2022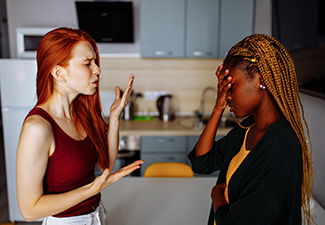 No two couples are alike and no two divorces are alike. This is true across all ages, classes, and genders; however, there are special considerations to take into account if you're seeking a same-sex divorce. Despite recent changes in federal law, same-sex couples may still encounter legal obstacles that their heterosexual counterparts won't. As the country as a whole becomes more accepting and accommodating of gay marriage, these disparities should decrease—but until then, there are some key issues you need to be aware of.
It's crucial you work with a family law attorney who's sympathetic to your concerns and will give you honest and direct legal counsel. Reach out to me at the Rundberg Law, LLC today to start discussing your options. I'm able to serve clients throughout Johnson County and in both Kansas and Missouri from my office in Overland Park, Kansas.
Same-Sex Marriage in Kansas
While same-sex marriage is legal in Kansas as it is in the rest of the country, there are still several issues in same-sex divorce that may arise. In 2015, the Supreme Court ruled that gay marriage would be legal nationwide, but before this time it was not legally recognized in all counties in Kansas and Missouri. Consequently, these federal laws haven't been in place that long and public opinion still lags behind in many parts of both states. Even so, same-sex married couples enjoy the same rights and responsibilities as other married couples, but there are legal issues that may look different in gay divorce.
Common Issues in Same-Sex Divorce
The details of your marriage will inform the decisions you'll need to make during your divorce and this primarily involves children, assets, and alimony. One overarching factor that comes into play is the fact that many same-sex couples have been together long before they were legally able to marry one another. In some cases, they may have married in a different state, but their union may not have been recognized prior to 2015. In other cases, they may have obtained a civil union or domestic partnership, but these do not confer the same rights as marriage. Consequently, any time the couple spent together before they were married is not taken into consideration in the eyes of the law.
This can come into play especially when dealing with asset division. When you divorce in either Kansas or Missouri, "marital" assets are to be divided equitably between the two spouses, but if there were assets acquired as a couple before marriage, this will make it more complicated. Additionally, if it's determined that one spouse owes alimony (also called spousal support or maintenance), the length of time it should be paid is traditionally based on how long the marriage lasted. For same-sex alimony, a couple may have been in a committed relationship for decades but only legally married for a few years. In this case, it would typically be up to the judge whether or not to award alimony and if so, for how long.
Lastly, one of the most difficult issues revolves around child custody. If one spouse has a biological child of their own and the other has not (or was not able to) legally adopt this child as their own, they may not be awarded the same rights regarding custody and parenting time. If the divorcing couple can agree to a parenting plan on their own, a judge will generally approve it. However, if one spouse contests the other's parental rights, you may need to bring the issue to court.
Experience When You Need It Most
If you're looking for a divorce attorney in Kansas or Missouri who understands the complexity of these laws and how they can affect your separation, contact me at Rundberg Law, LLC. I'm located in Overland Park, Kansas, and can help you with all your family law needs. Set up a one-on-one consultation when you are ready to move forward.