I Was Just Served Divorce Papers. Now What?
July 8, 2022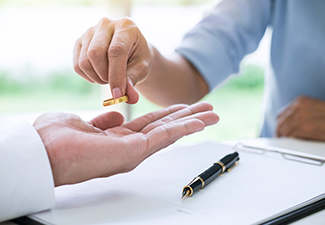 Going through a divorce can be overwhelming. With raw emotions and uncertainty involved in a divorce, it is easy for a person who just received divorce papers to make bad decisions without experienced guidance and representation. A knowledgeable Kansas or Missouri family law attorney can enlighten you about the next steps to take after being served with divorce papers.
At Rundberg Law, LLC, I have devoted my career to offering outstanding legal services and reliable advocacy to individuals in divorce-related matters. I'm available to discuss your unique situation and educate you about what to do after getting served with divorce papers.
Additionally, I can walk you through the entire marital dissolution process from start to finish and help you good decisions about the present and the future. My firm is proud to serve clients throughout the Kansas City metro area, including Overland Park, Johnson County, and surrounding counties in Kansas and Missouri.
Steps to Take After Being Served
with Divorce Papers
The moments after getting served with the divorce papers can be unsettling. However, any decision you make can have a significant impact on your family, children, assets, finances, and future relationships. Here's what to do when you are served with divorce papers:
Hire an Attorney: Hire an experienced divorce attorney to help evaluate your unique circumstances and help you understand the various divorce options that are available to you.
Be Aware of the Response Date: After getting served with the divorce papers, you must provide a written response telling your side of the story. You will have up to 30 days (in Missouri) or 21 days (in Kansas) to file an answer to the divorce petition.
Manage Your Finances and Inventory Assets/Debt: Evaluate your income, finances, debts, and financial needs after a divorce. You should also gather and review all financial records, including assets and liabilities. Reviewing your financial situation can help you better prepare for life post-divorce.
Gather Documentation: Also, you can collect and document all necessary legal paperwork and documentation from your soon-to-be ex-spouse. These include insurance policies, wills and trusts, end-of-life plans, advance directives, and income tax returns. Also, you should gather documents for family or joint businesses and any other legal documents.
Discuss with Your Attorney: A knowledgeable family law attorney can explore your possible options and determine the best way to resolve the legal issues related to your marriage.
Divorce Options
In Missouri or Kansas, divorce may either be contested or uncontested.
Contested Divorce
In a contested divorce, the spouses are not able to agree on one or more key terms of the divorce settlement. The family court will be called upon to help settle such family law or divorce issues. During the divorce hearing, both spouses will be allowed to present their cases. A final judgment will be issued through a divorce decree. An experienced family law attorney can help present your case diligently and increase your chances of getting the most favorable outcome in your divorce case.
Uncontested Divorce
Conversely, in an uncontested divorce, the spouses mutually agree on the crucial terms of the divorce settlement, including alimony, property division, child custody, child support, and parenting time. Upon resolving all divorce matters, the agreed-upon terms will be properly documented and filed with the courts for official approval. A skilled divorce attorney can help protect your legal rights and keep the conversation productive.
How a Knowledgeable Attorney Can Help
The period after being served with divorce papers can be extremely critical. How you act and respond during that period can have a massive impact on the outcome of your divorce case. Moreover, resolving matters involving a divorce often involve many issues. Therefore, if you have been served with divorce papers, you need to speak with an experienced family law attorney for proper guidance and to protect your best interests.
Contact my firm – Rundberg Law, LLC – today to schedule a simple consultation with a trusted divorce attorney. I have the personalized legal guidance, assistance, and reliable advocacy you need to navigate vital decisions in your divorce. My firm is proud to serve clients throughout the Kansas City metro area, including Overland Park, Johnson County, and the surrounding counties in Kansas and Missouri.