How Much Does a Divorce Cost in Kansas?
May 25, 2021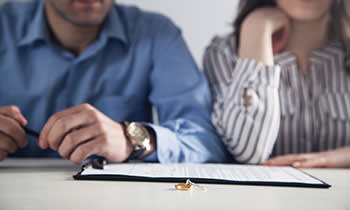 *Note that while my law firm handles divorce cases in both Missouri and Kansas, this blog will be exploring the specific costs of filing for Divorce in Kansas. For more info on Missouri divorces, click here.
According to the Kansas Department of Health and Environment, there were over 6,000 marriage dissolutions in Kansas in 2019, including 6,303 divorces and 95 annulments. If you're considering filing for divorce in Kansas, or already in the midst of a divorce, you may be wondering how much it's going to cost you. Consulting with an experienced Kansas divorce attorney is a simple first step that you can take to learn more about the process and how much it may cost you.
Here at my firm, Rundberg Law, LLC, I have the experience needed to guide and assist clients in all legal matters about divorce. As your legal counsel, I will review the unique details of your situation and discuss with you the various associated costs that you may have to pay. I can offer you the experienced legal counsel and advocacy you need to navigate any key decisions and answer all of your questions along the way. My firm proudly serves clients in Overland Park and Johnson County, Kansas, so call or reach out today to schedule a free case consultation.
What are the Costs of a Divorce?
The cost of a divorce in Kansas can vary widely from case to case, depending on your personal situation and the circumstances surrounding the divorce. Your cost will depend on how difficult it is to resolve the legal issues with your spouse. You may need to pay for the following expenses:
Filing fees at your county courthouse are typically about $200.

Attorney fees range from $200 to $500 per hour, depending on the experience of the attorney.

Education classes about the divorce process and co-parenting usually cost about $100 per parent.

Mediation usually costs about $300 per hour, with each party paying one-half.

Refinancing a mortgage, to remove the other spouse, may cost a few hundred dollars.

Potential psychological or custody evaluations of the parents or children often cost several thousand dollars.

Expert witnesses to determine asset values that are disputed typically cost several thousand dollars.
Contested vs. Uncontested Divorce
The major factor that determines the cost of a divorce is whether or not the divorce is contested. In an uncontested divorce, both spouses can find a way to mutually agree on the vital terms and conditions of the divorce settlement. This includes coming to terms on issues such as child custody, parenting time, child support, spousal support, and asset division. In contrast, a contested divorce means the parties are unable to agree on one or more of these key terms. That means the parties are forced to have a trial to have the judge decide the unsettled terms. A court trial will require significant additional expense to prepare and present evidence to the judge. Decisions made by a judge are typically a compromise of the positions taken by the parties and rarely does one party come out with exactly what they wanted.
Work with an Experienced Divorce Attorney You Can Trust
Filing for divorce in Kansas often involves complex legal issues. Determining the potential cost and affordability of the divorce is a crucial step for many who are considering a divorce. Ron Rundberg will help you decide what cost are appropriate for your situation. Ron will never encourage you to incur unnecessary expenses. He will always take an approach that is cost effective for you. If you are considering filing for divorce in Kansas or have already been served divorce papers, you need to speak with an experienced Kansas divorce attorney for detailed guidance.
At Rundberg Law, LLC, I am committed to providing comprehensive legal advocacy on a variety of different family law matters, including divorce, asset division, maintenance/ alimony, child custody, and child support. As your attorney, I will evaluate the details of your unique situation and advise you about the cost and affordability of your divorce. Whether your divorce is contested or uncontested divorce, I will provide you with the legal counsel and support you need to navigate every step of the divorce process.
So if you're considering a divorce, contact my firm — Rundberg Law, LLC — today to schedule a free one-on-one consultation with an experienced divorce attorney. I will help you understand your unique financial situation, estimate the cost of proceedings, and help you take your first step toward a new future. My firm proudly serves clients in Overland Park and Johnson County, Kansas, so call or reach out to my office today!