Child Custody When One Parent Is in the Military
Jan. 17, 2023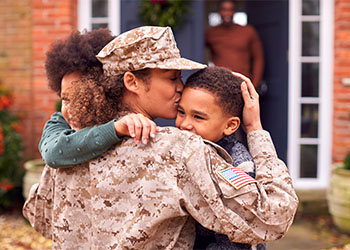 The military lifestyle can be difficult, and it can be particularly hard on families. This is especially true when it comes to child custody issues. If you are in the military and have concerns about your rights pertaining to child custody, there are laws that can help protect you and your family.
If you are a parent who is in the military, it is vital to understand your child custody rights as a servicemember. As a family law attorney at Rundberg Law, LLC, I can explain your rights and help you navigate the challenges involved due to relocation or military deployment. Contact my office in Overland Park, Kansas, to discuss your unique situation.
Laws Protecting a Servicemember's Child Custody Rights
Servicemember parents do not have fewer rights than other parents when it comes to obtaining or modifying child custody orders. However, they do have unique challenges due to their service commitments which require special considerations by the courts when making decisions regarding custody matters involving servicemembers' children.
Let's take a look at The Servicemembers Civil Relief Act (SCRA), The Uniform Child Custody Jurisdiction and Enforcement Act (UCCJEA), as well as Missouri and Kansas law, to understand these protections better.
The Servicemembers Civil Relief Act (SCRA). The SCRA offers protection to servicemembers by providing a stay of civil proceedings including child custody proceedings, if they can prove that their service has materially affected their ability to defend themselves or appear in court. This law also protects servicemembers from being penalized for missing rent or mortgage payments due to deployment during active duty service.

The Uniform Child Custody Jurisdiction and Enforcement Act (UCCJEA). This act helps prevent multiple states from having conflicting orders regarding the same children by setting forth rules that allow each state's orders to have full faith and credit in other states. In addition, this law allows states to recognize out-of-state custody orders made by another state's court if those courts had jurisdiction over the parties involved in the case. This means that if you are a servicemember who moves from one state to another with the military, this act will protect any existing child custody orders you may have obtained in your old state of residence.
Child custody issues for servicemembers can be complicated by the interplay between federal and state law. That is why it is critical to contact a skilled family law attorney and discuss your particular situation.
Kansas & Missouri Law on Child Custody for Servicemembers
In both Missouri and Kansas, there are laws that provide additional protections for servicemembers relating to child custody matters. These laws make it easier for courts in either state to stay or modify an existing order if a parent's service has impacted their ability to comply with an existing order or appear in court hearings related to the matter. Additionally, both states prohibit judges from denying or modifying an existing order solely because a parent is absent due to military service.
By understanding The Servicemember Civil Relief Act (SCRA), The Uniform Child Custody Jurisdiction and Enforcement Act (UCCJEA), as well as Missouri & Kansas law pertaining to these matters, individuals who are facing child custody issues while serving in active duty military will be able better protect their rights and ensure their families receive the best possible outcome from any legal action taken related to child custody matters involving them.
Important Considerations for Servicemembers with Children
There are unique considerations for servicemembers to keep in mind when it comes to child custody, such as relocation, active duty, and modifying arrangements to make things less stressful for children.
Relocation. If you are in the military and relocating due to a permanent change of station (PCS) or deployment, you must ensure that you follow all applicable laws regarding relocation.

Legal counsel. It's important that both parents have access to legal advice if necessary during times when one is actively serving overseas due to potential changes in custody agreements while they're away from home base.
As with any child custody dispute, the key component for success lies within mutual respect between all parties involved - something which should remain paramount no matter what disagreements might arise along this journey.
Discover Your Options Today
When one parent is in the military, the situation can become complicated for both parents and the kids. The legal issues that arise may be difficult to navigate on your own. If you are a servicemember with an existing child custody arrangement, you need to know how your relocation or military deployment can affect your rights. At Rundberg Law, LLC, I can explain your rights and legal options during a free case review.